And speaking of being popular, we come to the Tinder station Tinder Dating Site Review: There is hardly anyone in the world who does not know what this dating app is. If by any chance you haven't decided on which platform to look for your better half, well, here's the old reliable one.
There's no way you can say "I never got anyone on there", technically, there's everything for everyone. So take a seat, grab your phone, download the app, and start the journey that Tinder offers you.
And remember, on Tinder anything can happen….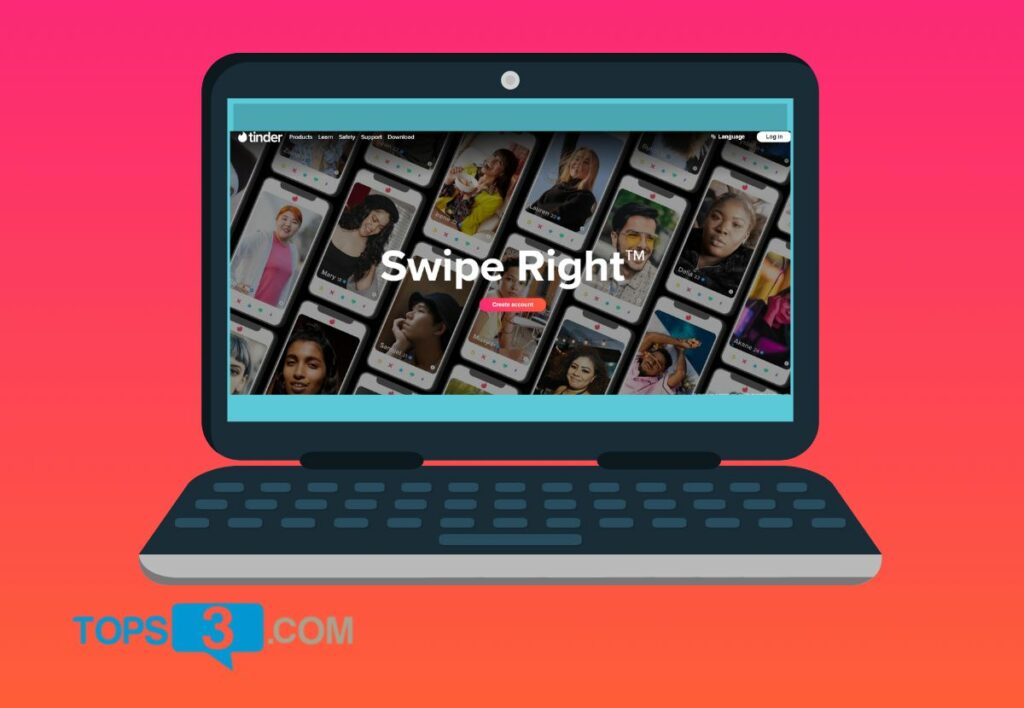 Tinder Dating Site Review – How does Tinder work?
Tinder was launched in 2011 in the U.S. This app aims to match people through its platform and encourage them to meet in real life. It is a kind of Facebook but only for dating, in fact, this application became a phenomenon in the field of dating websites. It is no secret that it is very popular, both for its reputation and its users (good and not so good).
Registration is a thing that will take you at most 5 minutes to complete. Previously it required using Facebook to be able to log in, but not anymore. However, you should know that it can vary a bit (not much) the process to register on android, iOS, and the web. Below is each of the processes on the different devices:
Steps to sign up on Android to create a Tinder account
Search for the Tinder app in the Android app store and download it.
Choose a login/registration method (phone number or social networks).
Enter your information for whichever registration method you chose.
Set up your profile with pictures and a short bio.
Decide if you want to upgrade to a premium membership or continue using the free version of the app.
Steps to register on iOS
Search for and download the Tinder app in the IOS app store.
Click on the create an account option.
Sign in and verify your phone number.
Provide your email address.
Connect to your Apple or Facebook account if you prefer.
Upload photos and complete your account information.
Allow Tinder all access permissions requested by the app.
Decide if you want to continue with a basic membership or upgrade your account.
Steps to Register on the Web
Log in to the Tinder.com platform.
There is no signup option, simply select sign in.
Choose whether you want to connect with your phone number or social networks. (We suggest using your phone number).
Enter your phone number or social media information.
Set up your profile with photos and a biography.
Decide if you want to pay for a premium account or keep your free membership.
Having explained this, it only remains to say that once you have done this, Voila! Welcome to Tinder, get ready for the hunt.
What does the Tinder profile include?
All the traditional elements of a social network are present in Tinder, however, we must talk about its differences and novelties, right?
First of all, it is advisable for a profile picture in this network is essential to show a face (users eat by sight at all times). You can place about yourself in the biography (interests, age, likes, etc), place photos (and update them from time to time), place your level of formal education if you have a job), locality and do not be shy.
Tinder features or functions:
Swipe: it is fundamental to the design of Tinder. From the compatible matches provided by the app's algorithm, users swipe right to "like" potential matches and swipe left to continue their search.
Instagram integration: allows users to access other users' Instagram profiles.
Common Connections: allows users to see if they share a mutual friend on Facebook with a match (a first-degree connection on Tinder) or when a user and their match have two separate friends who are friends with each other (considered second-degree on Tinder)
Tinder Gold: introduced worldwide in August 2017, this is a premium subscription feature that allows the user to see those they have already liked before swiping.
Super likes: are a way to tell a user that you are very interested in them.
Here are the features it offers for each of its paid account types:
Tinder Plus Features:
Rewind: This allows you to undo the last swipe if you accidentally (you know, in case you regret it at the last minute).
5 Super Likes: With Plus, you get 5 free Super Likes per day.
1 Boost per month: Boost allows your profile to be at the top of people's lists for 30 minutes.
Passport: This allows you to view and interact with accounts from all over the world.
Tinder Gold Features:
New top picks: Get more top picks every day, which are users you are likely to be interested in.
Visible Likes: See which accounts you like before you like them.
Tinder Platinum features:
Message before the match: You can message whoever you want regardless of whether you have liked them or not.
Priority likes: Your like will stand out above the others.
Weekly summary of likes: A summary of who likes you in the last 7 days.
Price:
Tinder has paid and various services depending on which one you choose, let's see what they are:
| | | | |
| --- | --- | --- | --- |
| Plan | Duration | Subscription | Cost |
| Platinum | 12 Month | $12.50 | $119.99 |
| Platinum | 6 Month | $20.00 | $89.99 |
| Platinum | 1 Month | $39.99 | $29.99 |
| Gold | 12 Month | $10.00 | $99.99 |
| Gold | 6 Month | $15.00 | $74.99 |
| Gold | 1 Month | $29.99 | $24.99 |
| More | 12 Month | $3.33 | $31.99 |
| More | 6 Month | $5.00 | $23.99 |
| More | 1 Month | $9.99 | $7.99 |
Platform:
Tinder
Find your perfect match!
Advantages and disadvantages:
Super easy to use.

Fantastic for casual relationships.

There is a free membership option.
Free memberships are limited in hits (I like it).

The app doesn't work well for serious relationships.

The app heavily incentivizes paid subscriptions.
Public opinion:
Tinder… The old reliable online dating site these days has a dark reputation but is still attractive and promising. No matter what, the bottom line is that you can show your little heart around here and maybe it will be reciprocated. Public opinion gives it an 8/10. Remember, on tinder you are either prey or hunter, happy traversing.

Read More: How to Find a Partner on Tinder